Flipkart Wholesale launches 'Scan 2 Buy' To drive e-commerce adoption with instore purchases
Enables technology features to facilitate ease of doing business for retailers and kiranas
'Scan 2 Buy' feature enables quick and easy shopping experience with faster checkout
Within 10 days of launch, the feature has contributed to 30% increase in e-commerce adoption by kirana members
New Delhi – December 08, 2021: Flipkart Wholesale, the digital B2B marketplace of India's homegrown Flipkart Group has enabled a 'Scan 2 Buy' feature on its e-commerce app to help kiranas and retailers with superior shopping experience.
'Scan 2 Buy' aims to drive adoption of e-commerce with walk-in members, supplementing the platform's vision of 'Business Banaye Aasan. Rolled out nationally across all 28 Flipkart Wholesale Best Price stores via the platform's app, 'Scan 2 Buy' feature has already witnessed a 30% jump in e-commerce adoption by walk-in members within 10 days of launch.
Adarsh Menon, Senior Vice-President and Head, Flipkart Wholesale, said, "Flipkart Wholesale continues to focus on enabling growth and prosperity of small kiranas and MSMEs. In that effort, we have taken yet another step towards modernizing the ecosystem by unlocking the true potential of technology for our members. Giving our members the benefits of e-commerce within an in-store experience will drive quicker adoption of e-commerce and showcase the convenience and ease of doing business for kiranas and retailers. As a homegrown platform, we understand the evolving pain points of small businesses and kirana owners and will continue to partner with them to bring solutions that make their e-commerce journey successful."
With this, Flipkart Wholesale aims to solve any technology barriers Kiranas may face in adoption of e-commerce. The feature allows kiranas the convenience of making digital cart purchases in the comfort of a familiar environment of the store.
Here is how it works: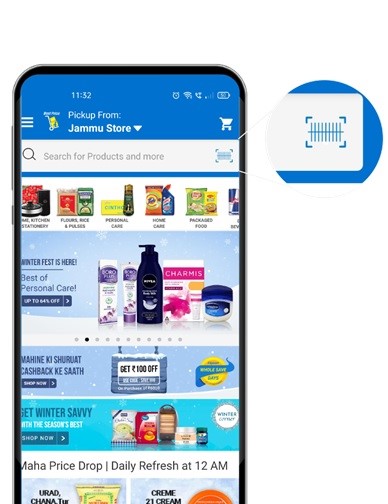 The 'Scan 2 Buy' feature addresses a key challenge faced by customers in creating their digital cart before checkouts. Searching for a product by manually typing item names or item numbers for an average cart size of 25-50 items is time-consuming and cumbersome. Flipkart Wholesale members can now use the scan option in the e-commerce app to simply scan the item's barcode available on the item packaging to quickly access the product details page. This helps streamline the otherwise manual process of cart making and check out by enabling customers to directly create a digital cart and increase the checkout speed and efficiency. Once the digital cart is ready, the picker at the store completes the picking for the items already available in the physical cart. Once the order picking is completed, the order gets invoiced (auto process), and packing of goods is done, post which the customer can walk away with the order.
Launched in 2020, Flipkart Wholesale expanded its reach at a rapid pace to serve kiranas and MSMEs. The platform offers a wide range of selection across categories spanning the length and breadth of everything that consumers need- be it Fashion, grocery or general merchandise.
Flipkart Wholesale leverages the Flipkart Group's experience, understanding of the industry and ability in the digital space to serve kiranas and retailers better. They are increasingly adopting e-commerce as their preferred mode of purchase. Flipkart Wholesale serves over 1.5 million members across the country, which include kiranas, HoReCa (hotels, restaurants and cafeterias) and O&I (offices and institutions).