ShareChat users taking revenge on Corona with 'Bhag Corona' game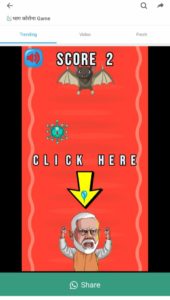 India, April 23, 2020: While the nation is struggling to cope up with Covid19 crisis, ShareChat users have got a unique way to take revenge on Corona Virus. The game, developed by two young college students at XLRI Jamshedpur, Akram Tariq Khan and Anushree Warade is trending on the platform past 10 days.
The game, with visual of Prime Minister Narendra Modi at the bottom, shooting at Corona Virus with droplets of hand sanitisers. With 'Go corona, corona go,' chant as the theme music, the game intends to create awareness around Covid19. Every time the game ends with an advice on how to fight against Coronavirus with messages like 'Stay home', 'Wear masks', 'Wash your hands' etc.
Since the time the game has gone live on ShareChat, it is trending on the platform and has already generated 4 million unique page views. The users have played the game almost a million times, with average of 3.2 times of game play per user. The average scrore has been 5.8 per game play.
Considering, people are disappointed, frustrated and are anxious with this lockdown due to Corona Virus scare, Bhag Corona definitely has brought in a respite for the ShareChat users and evolved as a stress buster for them. ShareChat users have discovered a new way to take on Corona while the game subtly spread awareness on the virus.