AM Foundation launches "Dr Mobile", a mobile medical clinic under the CSR initiative from Tamilnadu Petroproducts
Wheels that heal: primary healthcare services to cover 10,000 beneficiaries
AM Foundation launches "Dr Mobile", a mobile medical clinic under the CSR initiative from Tamilnadu Petroproducts
Will offer primary healthcare services to the doorstep of beneficiaries residing in rural areas around the company's manufacturing plants in Manali, Chennai
To bridge the healthcare services access gap in rural centres, the National Health Mission recommends the establishment of mobile medical units
Dr Mobile will offer primary healthcare – preventive, diagnostic, curative, and referral services
equipped with modern, state-of-the-art medical facilities
The first medical camp of the Dr Mobile initiative was held at Kanniyamman Pettai, Chennai, with over 100 beneficiaries treated during the maiden camp
14th April 2022, Chennai: AM Foundation, the corporate social responsibility arm of Singapore-headquartered AM International Holdings Pte. Ltd (AMIH) recently launched Dr Mobile, a mobile (van) medical care project that will travel to rural areas. The initiative is part of Tamilnadu Petroproducts Limited's (TPL) CSR efforts. It focuses on providing a wide range of awareness, preventive and curative primary healthcare services at the doorstep of beneficiaries residing in rural areas.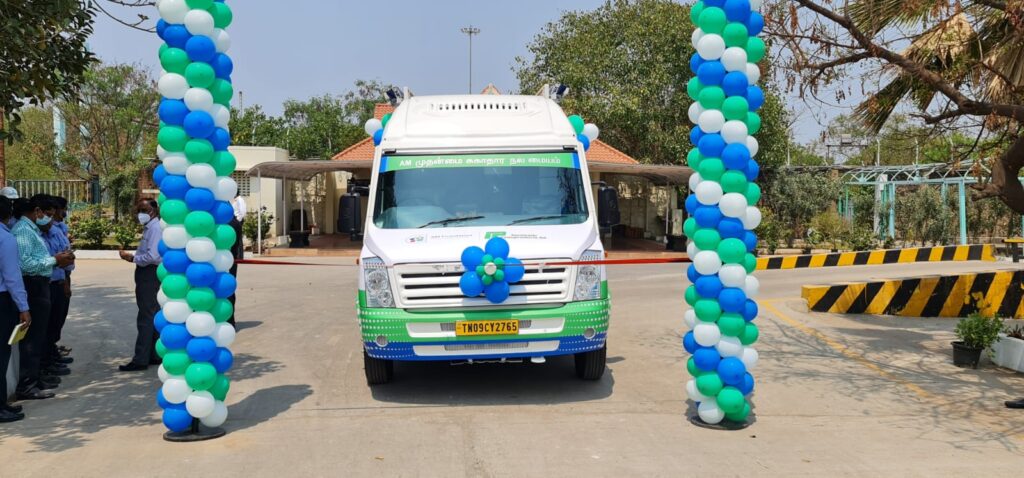 TPL is among India's leading manufacturers of industrial intermediate chemicals, and AM Foundation is the CSR arm of the AMIH group. Dr Mobile will cater to healthcare needs and cover 10,000 beneficiaries residing in and around Manali in Chennai. The mobile van service will be available in the areas of Andarkuppam, Kadapakkam, Kanniyamman Pettai, Theeyampakkam and Kosapur.
Commenting on the initiative, Mr Ashwin Muthiah, Chairman AM Foundation, Vice-Chairman, TPL & Founder Chairman, AM International group, Singapore, said, "India's goal of achieving universal health coverage by 2030 is possible only through sustained public-private partnership efforts. At AM Foundation, providing primary healthcare services to the needy is at the heart of our impact investment strategy. We are proud to contribute to the government's efforts in this critical mission.
Our CSR programmes are designed to bridge the gap in the healthcare ecosystem by bringing quality healthcare closer to local and marginalised communities. Dr Mobile will ensure deeper coverage over a larger geographical area with optimal use of resources, thus making quality healthcare available at the doorstep of the people who need it the most."
The mobile unit will provide beneficiaries with a wide range of healthcare services:
In association with leading speciality hospitals, Dr Mobile will conduct multiple specialised health camps for ophthalmology, dental, ENT, and diseases such as cancer, diabetes, and arthritis.
As a part of its awareness campaign, it will undertake door-to-door demonstrations and organise camps periodically to educate communities on the importance of nutrition, immunisation and environmental factors in preventive healthcare.
The unit is equipped with diagnostic facilities to ensure immediate care for patients. AM Foundation also has tie-ups with government agencies to offer secondary and tertiary healthcare referral access.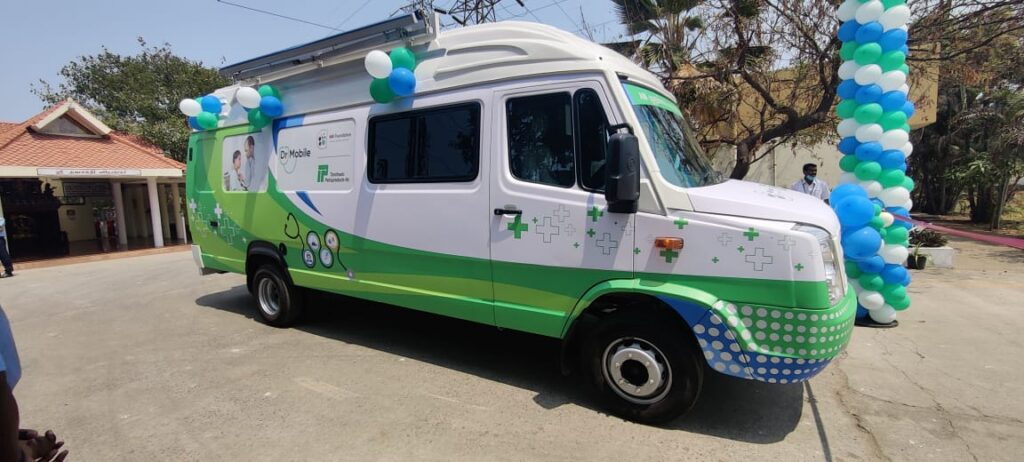 A multi-lingual mobile application developed by AM Foundation will enable beneficiaries to track the movement of Dr Mobile. AM Foundation will also use the application for maintaining patient records and providing real-time information about the healthcare initiatives to stakeholders.
The first mobile medical unit was recently inaugurated in Manali, Chennai.
The inauguration ceremony was attended by Mr Muthukrishnan Ravi, CEO Petrochemicals Division, AM International Group; Mr Senthi Kumar, Wholetime Director, TPL; Mr Prabhakar, AGM, HR, Manali Petrochemicals Limited; Mr Raja Kumar, Advisor-Environment, TPL; and Mr Cyprian Paulraj, GM, AM Foundation and others. Mrs Indhra Desilva, Chief Operating Officer, AM Foundation & her team were appreciated for their contributions towards Dr Mobile & its successful launch.
Following the inauguration ceremony, the very first medical camp of the Dr Mobile initiative was held at Kanniyamman Pettai. The first camp treated over 100 beneficiaries.
Access to quality healthcare is a significant challenge in rural India. According to estimates, urban centres are home to almost 70% of the doctors and nearly 65% of the country's hospital beds despite having less than 30% of the total population. From lack of access to the high cost of services, rural patients face several hurdles to healthcare that limit their ability to avail the care they need. To bridge the healthcare access gap in rural centres, the National Health Mission recommends the establishment of mobile medical units.