Home isolation starts, but Noida & Ghaziabad still don't have a biowaste plan
NOIDA/GHAZIABAD: Days after the UP government allowed home isolation of asymptomatic patients, Noida and Ghaziabad are still devising ways to dispose of biomedical waste from such households.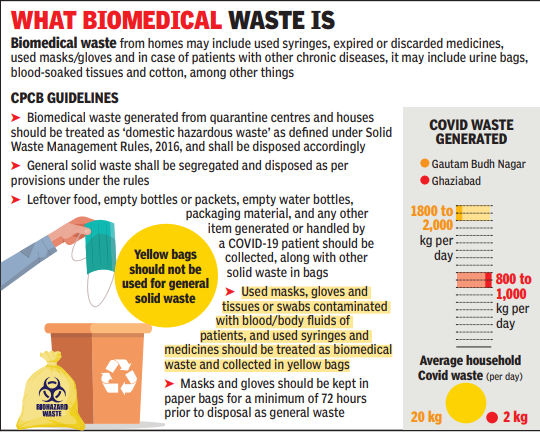 So far, more than 100 Covid-19 patients from both districts have been allowed to isolate at home. Officials said that over the next few weeks, biomedical waste from homes was set to increase while trash from hospitals and Covid care centres would reduce. This is mainly because of two reasons – more patients will now be asked to stay at home and change in Covid waste management rules that were enforced from Friday.
The new waste management guidelines, released by the Central Pollution Control Board (CPCB) on July 21, mentions that unlike earlier, general food waste such as fruit peels, empty bottles, cartons and leftovers from isolation wards will be disposed of in keeping with the the Solid Waste Management Rules, 2016. This will reduce the amount of trash going to the biomedical waste facilities for incineration.
"From Friday, we stopped taking unsegregated biomedical waste as mentioned in the new rules. Overall, we now expect Covid waste to reduce drastically in both districts. But waste being generated from urban local bodies will increase as more patients are being allowed to isolate at home. This waste will only include gloves, masks and some medicine packets that are lightweight," said Sanjay Kaushik, CEO of Synergy Waste Management, the agency that handles disposal of Covid waste in Noida and Ghaziabad.
Noida generates about 1,800-2,000 kg of Covid waste daily from institutions while only around 20kg of biomedical waste from homes. Meanwhile, isolation wards in Ghaziabad generate about 800-1,000kg of Covid waste daily, while the municipal corporation provides about 2kg of trash, which mainly includes masks and gloves.
While Ghaziabad has asked households where people are in quarantine to buy yellow disposable bags as part of their Covid kits, Noida and Greater Noida authorities are providing the bags themselves. However, none of the district authorities have a clear list of the number of houses where patients have isolated themselves.
Dr Mithilesh Kumar, the health officer of Ghaziabad Municipal Corporation, said, "A set of guidelines was issued by CPCB and it has clearly categorised what comes under biomedical waste. According to that, syringes, used masks and gloves, drain bags, urine bags, body fluid or blood-soaked tissues or cotton are biomedical waste and need to be treated accordingly. Masks worn by contacts of Covid patients will have to be kept in a paper bag for 72 hours and then handed over as general waste."
Ramesh Chandra, senior manager at the Greater Noida Industrial Development Authority, said, "We are already collecting Covid waste from homes where people are in quarantine or there are positive patients. We have given yellow bags to these households and are collecting Covid waste separately." Similarly, in Noida, biomedical waste is handed over at the collection centre in Sector 25. Sources said since the authorities do not have a list of such homes with patients, they pick up biomedical waste in yellow bags from wherever they get it separately.
Source: TOI